No not Halloween. We do celebrate other holidays and traditions here in Salem Ma. In fact, we are building quite a resume as a December event destination for residents, North Shore neighbors and tourists. You will read about these in upcoming blogs.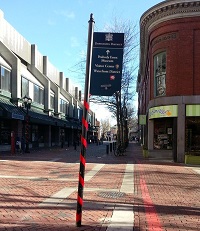 As a lead-in have you noticed some subtle changes in Salem as you walked around (we love walking around the Downtown district, everything is so conveniently located) this weekend?
Ribbons and wreaths are appearing all over the place. Elves? Gremlins? (Well, it is Salem…).
There is a really tall tree in Lappin Park. Did Samantha twitch her nose and it magically appeared?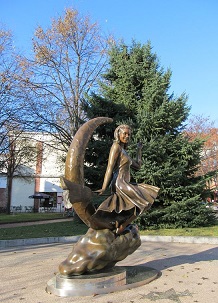 As residents know, every year we join Mayor Kimberley Driscoll in lighting Salem's Holiday Tree at Lappin Park (next to the Bewitched Statue at the intersection of Essex and Washington Streets).
This year's event will take place on Friday, Nov. 29 at 6:30pm. We invite you to bring the entire family to enjoy carols with the Paul Madore Singers; there will also be cocoa and snacks on hand!
The event is organized by Salem Main Streets and the City of Salem. This year's tree comes from Benjamin Nutter Architects in Topsfield, thanks in part to a donation from the Meetinghouse Church. Decorations and lights are made possible by individual contributions and donations from a number of local businesses. Salem Main Streets would like to thank North Shore Marine and Bill's Auto Clinic for their services in delivering the tree.
And keep an eye open for changes to the storefront windows of merchants along such Salem locales as Essex, Washington, Front and Derby streets. They will also be getting into the Holiday Spirit.