Living, growing, expanding— the 7th Annual Salem Arts Festival (which takes place this Friday, Saturday and Sunday here in Salem Ma) will have several firsts this year.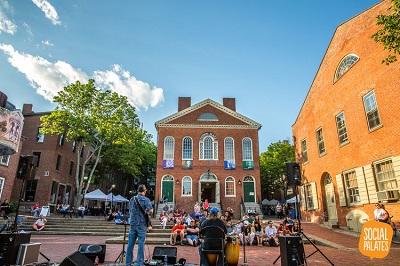 The musical acts on Friday night will be outside on Derby Square for the first time! Yes, music is a lively element woven into the fabric of our Salem Arts Festival. Music is entertainment. Music is also art.
Speaking of art, the annual Juried Art Show had a twist on the submission process that apparently super-charged the number of entries, according to Kylie Sullivan, Executive Director of Salem Main Streets, (SMS), the community non-profit organization which started the Festival.
"I'm very excited about the juried gallery this year," she says. "I think it's the most diverse range of media and styles that we've ever had. This was our first year doing an on-site jury process, and we had more applications than ever before."
And another "first" type event at the Festival is the "Front Yard Street Art" collaborative public art installation. It is one of the most anticipated events this year as it will transform Front Street into a temporary green space and masterpiece during the festival. "Front Yard Street Art" is a fiber arts project that was completed through the leadership of local artist Kate Babcock and the open participation of community members and groups of all ages and abilities.
In total, Salem Arts Festival will feature over 80 artists and performers, and includes a variety of art, music, dance, and theatre performances. The family-friendly event also includes art-making for all ages and artisan vendors selling their creations.
"There's been a tremendous amount of collaboration between so many local groups and individuals to continue to improve and expand the festival every year. We're so excited about the phenomenal energy and talent that will be on display this year," adds Sullivan.

The Festival is spread out at a variety of venues in downtown Salem, with the focus primarily on Old Town Hall, Derby Square, Front Street, and Artists' Row.
The Festival kicks off with an opening reception at Salem's Old Town Hall on Friday, June 5th at 6 pm. The free event allows visitors to enjoy beautiful art work while being entertained by renowned local performers Briana Paquin, Siren of the Circle, and headliners The Squeezebox Stompers.
This year, the Salem Arts Festival also celebrates the launch of Liz LaManche's piece "Salem's Connected World," the first commissioned public art project completed by the City of Salem's Public Art Commission and Public Art Planner Deborah Greel. It will be visible all throughout the festival grounds.
In addition, the Festival marks the return of vendors to Artists' Row, with all new tenants for the 2015 season.
The goal of the Salem Arts Festival is to promote all the arts in Salem and to provide the entire North Shore arts community an opportunity to showcase their talents. The Festival is run in collaboration with Salem Main Streets by a team of dedicated volunteers, including representatives from Salem State University, the Peabody Essex Museum, Creative Salem, and many more.
Visitors interested in attending the Salem Arts Festival can find easy access to the downtown by public transportation or parking at one of the many downtown lots in the City. For more information, please visit www.salemartsfestival.com.
2015 Salem Arts Festival Schedule
Friday, June 5th – Old Town Hall Gallery Reception – 6 pm to 9 pm
7:00 – 7:50 pm, Briana Paquin
7:50 – 8:00 pm, Siren of the Circle
8:00 – 9:00 pm, The Squeezebox Stompers
Saturday June 6th – Gallery, Street Fair, and Art-Making – 11 am to 6 pm
Derby Square
11:30 am – 12:15 pm, The Bordellos
12:30 – 1:15 pm, Witch City Belly Dance
1:30 – 2:15 pm, Brooks Young Band
3:20 – 4:05 pm, The Othership
4:15 – 5:00 pm, Dark Follies
5:15 – 6:00 pm, Poppa Cigar
Artists' Row
1:00 – 1:30 pm, Olivia Gale
2:15 – 3:00 pm, The Whiskey Sippers
3:00 – 4:00 pm, Right Mix Quartet
4:00 – 5:00 pm, JAMINIC
5:00 – 6:00 pm, Art Attack
Old Town Hall Upstairs
2:30 – 3:15 pm, History Alive!
4:00 – 4:30 pm, Brady Kenny O'Brien Academy of Irish Dance
4:55 – 5:15 pm, Aurora Borealis Dance Company
Sunday June 7th – Gallery, Street Fair, and Art-Making – 11 am to 6 pm
Derby Square
11:30 am – 12:15 pm, Strange Interlude
12:15 pm – 1:00 pm, Pete and Chris Amusements
1:00 – 1:45 pm, The Coteries
2:00 – 4:00 pm, Linda Peck, around Old Town Hall
2:00 – 2:45 pm, True Monks
3:15 – 4:00 pm, Jumpin' Juba
4:15 – 5:00 pm, Absolute Gentleman
5:15 – 6:00 pm, Machine 475
Artists' Row
12:15 – 1:00 pm, Carubia Brass Bands
1:30 – 2:00 pm, 1+1
2:15 – 2:45 pm, The Ridiculous Project
2:45 – 3:15 pm, Jennifer Evans
3:15 – 3:30 pm, "Up": A Play by Michael Jaros
4:00 – 4:45 pm, The High Meadow Howlers
4:50 – 5:10 pm, Christopher Noran
Old Town Hall Upstairs
2:45 – 3:05 pm, Jackie Bowden
*All times are approximate and subject to change.
Mid 60s temperatures and partly to mostly sunny days are in the forecast for the Salem Arts Festival . We invite you to bring the entire family for a most entertaining and enlightening day.
(Photo courtesy John Andrews at Social Palates)