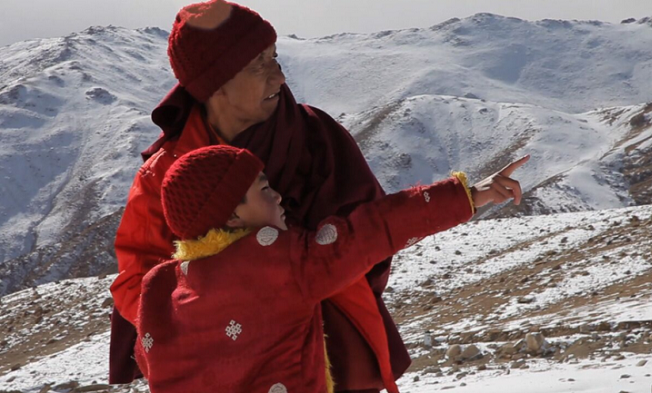 The whole world is watching what we do in Salem this month!  Entering its 11th year, we are home to the Salem Film Fest (March 22-29), one of New England's largest documentary film festivals, which presents a rich and diverse collection of the year's best work from all over the world.
Just look at the offerings this year.
Between Land & Sea: Ireland's stunning west coast is the setting for this intimate yet epic look at a Big Wave surf community. This is an engaging look at life at land's end, placing viewers inside colossal waves while emotionally connecting them with the athletes who ride them and the bucolic Irish town whose fortunes are at the mercy of the mighty Atlantic.
Becoming Who I Was: In India's mountainous Ladakh region, a young boy considered the reincarnation of a Tibetan monk and his elderly godfather embark on a grueling trek to return the monk-to-be to his rightful monastery in Tibet. With powerful imagery capturing the natural landscape, this is a stirring exploration of dedication, culture, tradition and identity that conveys the universal truths of unconditional love, family bonds and sacrifice. (photo from Salem Film Fest website)
Skid Row Marathon: Craig Mitchell, a Los Angeles Superior Court Judge makes difficult decisions on a daily basis within the criminal justice system. He feels compelled to help change the lives of recovering addicts and convicts he has encountered in his courtroom. Through the long-distance runner's club of the Midnight Mission on Skid Row, Judge Mitchell befriends and inspires, restoring self-worth and dignity as club members train to compete in international marathons.

When we first started blogging about "a" local city-wide film fest back in 2007, frankly it was an easy write. Some films. Some events. Now it is the world-renowned Salem Film Fest. A lot of films. Diverse. From all over the world. Expressing opinions you may agree with. Or you may not. And a lot of events. So many activities that it is easier to give the you the link to their multi-page website. Just spending time there, you can catch the breadth of this project that began as an idea to do something to highlight the Salem cultural scene.
Dinah Cardin wrote a very informative behind the scenes look at the Salem Film Fest for Northshore magazine last year, explaining that award-winning filmmaker and Salem native Joe Cultrera had just moved back from New York. He was approached with the idea of doing a film festival. In short time, along with CinemaSalem owner Paul Van Ness and Rinus Oosthoek, executive director of the Salem Chamber of Commerce., the beginning of the Salem Film Fest originated.
Cardin wrote that Cultrera crafted a philosophy that centered on creative and unique storytelling without compromise. "The first couple years it felt like we were teaching the local community about how vast, varied, entertaining, and provoking documentaries could be—how they didn't have to be the boring and preachy stuff you might think they were," says Cultrera. "I built the programming aesthetic with that in mind—looking for great stories, interesting characters, and strong filmmaking technique."
Cultrera also devised a model that pays filmmakers to participate and motivates local businesses to become involved as sponsors, underwriting the film of their choice. You can read the article here to see how and why the "process works" to make the Salem Film Fest a success for the filmmakers, the business community and the film attendees.
Events in Addition to Films
The highlight "event" for many attendees is the opportunity to meet visiting filmmakers in intimate settings. Other events include discussions, parties, galas, meet-and-greets, family-friendly screenings, high school and college student film showcases. Although many of these may be free of charge, space may well be limited, so word to the wise— arrive early!
Actually, that is good advice for any of the showings or events. Individual admission tickets for all Salem Film Fest film presentations are priced at $13 for adults, and then $11 for seniors, students, active military and veterans. Tickets may be purchased online or at the Salem Film Fest box office, located adjacent to CinemaSalem in the Museum Place Mall hallway. For more info on individual tickets or Salem Film Fest VIP All Access Film Pass, please go to the Salem Film Fest website.
Come to Salem, see the world — as you may never have seen it before.