School is in session this Saturday as Education Day breaks out all over Salem Ma. But it will be unlike anything you've seen before. Classes are in skin care, recycling, rope making, mixology, Farmers Market, photography and more.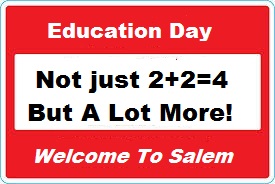 The Salem Education Foundation is presenting the "2nd Annual Hats Off to Education Weekend" as a way of promoting community involvement and investment in the public schools of Salem, Ma.
The schedule as posted by SEF includes:
Workshops and Fun Activities, at Old Town Hall, 10am – 3pm
・    The Community Development Coalition will host a bilingual scavenger hunt in Old Town Hall and visitors can take part in a session titled "Journey through the Immigrant Experience"
・    TD Bank will offer finance classes for teens and adults
・    John Andrews of Social Palates and "we_are_Salem" will offer a photography class
・    The House of The Seven Gables will offer bilingual "Dominican Tales"
・    Salem Historical Tours will speak about the city's rich history
・    The North Shore Career Center will offer workshops on how to build a resume and find a job
・    Henry Miller's Architecture Lab at Boston Architectural College will offer two hour long workshops on how to build a speaker for your handheld device. Space is limited for this workshop. Please register by emailing Henry.Miller@the-bac.edu
・    Additionally, children will have the opportunity to look at gemstones, learn about beekeeping, brush up on their Harry Potter facts, learn about the importance of recycling, healthy food and gardening and engage in arts activities
Free Community Read Book, Old Town Hall, 10am – 3pm
・    The Community Advisory Board will give away copies of "The Good Thief," written by Hannah Tinti, a Salem native. This is the book selected for the city of Salem's first Community Read.
Activities at the Salem Common will include:
・    The Hogwarts Hustle Kids' Fun Run at 10:30am This is a half-mile fun run for kids age 12 and under. There will also be a dash for kids 4 and under. Kids are encouraged to dress as their favorite Harry Potter characters. Finisher ribbons will be awarded to the first 100 runners
・    12 noon Basketball Tournament! Email Andre at adaley@bgcgs.org
・    Adults and children alike can have a Zumba experience with the energetic Gina Grinarml
・    Learn circuit training with Kerry Murphy
・    Play in a basketball game with Mayor Kim Driscoll
・    Hula hoop and free dance to the rhythms of Mamadou's drummers!
Performances, at Old Town Hall, 10am – 3pm
・    The Salem High School Jazz Band
・    Destination Imagination team Challenges
・    School-age Latin and African dancers from Greg Coles and his Salsa for the Schools program
・    A theater group and other local talents
The SEF mission is to provide funding for projects that further students' educational experiences in science, mathematics, the arts and humanities. It supports projects that go beyond the scope of those funded by the Salem Public School Department. And it works with the larger community to make schools a true community enterprise by promoting and coordinating volunteerism and participation in the schools.
Learn something and have a lot of fun.