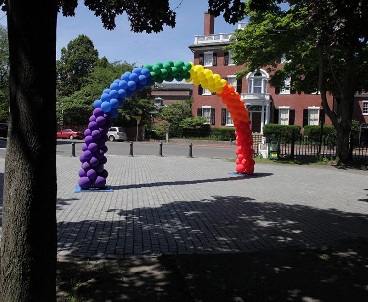 This is what Salem aspires to be all about. Diversity & inclusion. The town that discriminated against witches is now the place where the LGBT community will hold its annual expression of solidarity (and fun) – – – the 4th Annual North Shore Pride Parade and Festival, June 20 starting at noon.
If you're looking for a historical perspective on the Pride Parade, Wikipedia provides one.
Essentially the Pride Parade endeavors to broadcast to the world, or for the Salem march at least to the North Shore, that LGBT people are composed from a variety of social, economic and ethnic backgrounds. They are real people. And although communities strive to foster diversity and inclusion, the parade is also a platform to say there are still issues to be resolved.
That said, the 4th Annual North Shore Pride Parade and Festival has been designed to be a colorful, lively, loud expression of personal choice. This year's theme is Standing Proud Together.
The parade kicks off from the Post Office at noon (see parade route) and makes its way to Salem Common, where festival activities (including food, arts, crafts, live music, plus local nonprofit and business vendors) will take place from 1-4:30pm.
This year's entertainment lineup at the festival showcases the talents of headliners XELLE.  Also in the lineup: Adrienne Mack Davis as part of her world tour; local favorites, The DeJas, Big Ol' Dirty Bucket, Sarah & The Wild Versatile, Pocket Tanya, Siren of the Circle, Jenn Lombari and Lucky United.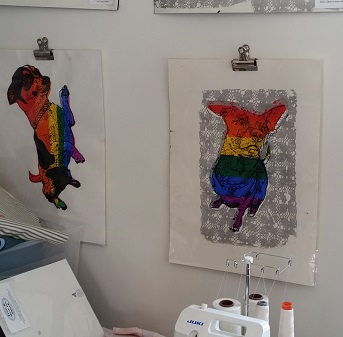 Retailers and local artists have also been getting involved and showing their support. A wide variety of rainbow flags can be seen everywhere. For example, Diane Hoffman on Artists' Row (of DINO Diane Hoffman Textiles) has been gleefully cranking out rainbow prints in preparation for the day's events.
There will also be a special 5 pm performance of "The Normal Heart" at Salem Theatre.
And rounding out the day will be an official After Party outside at Murphy's Pub starting at 5 pm ($5 suggested donation at the door).
North Shore Pride is a 100% volunteer run non-profit organization. The annual North Shore Pride Parade, Festival and year-round community events are made possible by the work of countless volunteers, individual donations and the support of community sponsors.