January may be a grim, gray month for most people, but we laugh at that notion in Salem. No, really, we laugh, as with the First Annual Salem Comedy & Spirits Festival, set for January 14 – 17, 2016.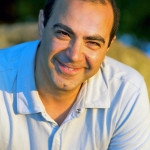 Festival producer and comedian Mark Scalia got the idea from a somewhat similar humor fest he had attended in New Orleans. It was a celebration of comedy for both the comics and the audience.
"New England in January tends to be dark and cold and can make people get a little stir-crazy. Comedy is a great way to get out on a cold night and laugh!  Besides, it's the ONLY month that Salem doesn't have another festival."
The Salem Comedy & Spirits Festival features top area performing comedians, an improv show, locally crafted spirits and cider, and related special events at a variety of Salem venues (Koto, Far From the Tree, Opus, and Gallows Hill Theatre).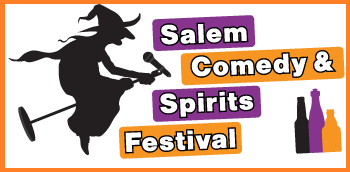 1/14, 7pm
Enjoy a delicious dinner from Koto before enjoying opening night hilarity with 10 great comedians. Hosted by Mark Scalia and closing the show will be comedian Chris Pennie.
Among the comics: Kristin O'Brien, Niraj Shah, Dan Gilbert, Mark Turcotte, Andy Lester & Kyle Daley
1/15, 7pm
Enjoy samples from Salem's own Far From The Tree cidery before a showcase of 10 top comedians. Hosted by Mark Scalia and closing the show will be comedian Matt Barry.
Among the comics: Tyler Moore , Ryan Chani, Pete Wolynec, Danny Rathbun, Jess Miller & Drew Dunn
1/16, 6pm
Enjoy an exclusive private 3-course dinner with the show's three headlining comedians, Dave Rattigan, Jay Grove & Mark Scalia at Opus Underground, as well as VIP seating for the comedy show!
1/17, 6:30 and 8:30pm
The evening at the Gallows Hill Theater begins with an Improv show with the hilarious "Accidentally on Purpose" featuring Erik Rodenhiser.
Then at 8:30pm, Ace Comedy Hypnotist Steve Coppola will take the stage with his interactive and comedic show!
Don't let snow (or lack of it) get you down in January. Just come down to Salem MA and treat yourself to a laugh or two, or three or four at the The Salem Comedy & Spirits Festival. For tickets and additional info, go to http://salemcomedyfestival.com/