Many things do we look forward to during the holiday season, and here at Salem Main Streets we are particularly fond of the Holiday Windows promotion we conduct with the cooperation of the merchants in the Downtown District.
Yes, the holidays are here, and Salem is dressed for the season with trees, wreaths, and ribbons. But to top it off, over 35 downtown businesses joined in by decorating their windows especially for the holidays. Judges nominated by Salem Main Streets recently made the rounds to vote on the best windows.
"We had some truly fantastic windows this year, and there was much friendly disagreement and fighting for favorites between the judges," said Kylie Sullivan, Salem Main Streets Executive Director. "Of particular note, we added a category this year for 'Best Use of Product' and were happily surprised to see that this became a very competitive category."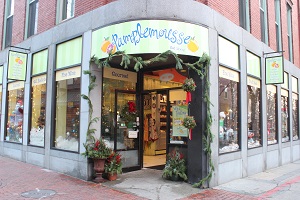 Overall: Pamplemousse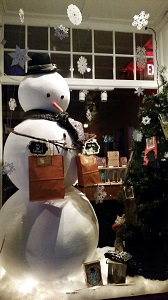 Most Traditional: Re-Find Men's
Honorable Mention – The House of the Seven Gables Gift Shop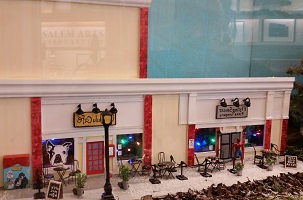 Most Original: SCAM (Salem Collective of Artists and Musicians)
Honorable Mention – Fringe Salon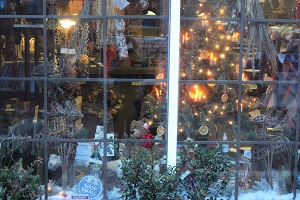 Best Use of Product: The Coven's Cottage
Honorable Mention – LightShed Photography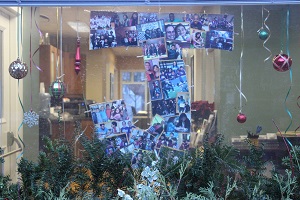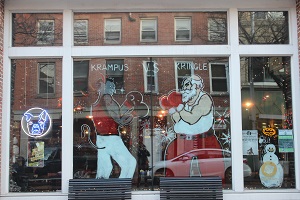 X Factor Awards ( for windows that "defy categorization") there was a tie : For Kids Only Afterschool (on left), Gulu Gulu Cafe (on right).
Kylie sums it up by saying, "All around, we wish we could have given at least twice as many awards!"
Come to Salem MA, where "window shopping" is an art form!