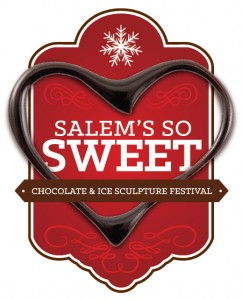 While Salem is scary in October and sentimental in December, it is So Sweet in February. This is our way of reminding you that tickets are now on sale— and will, as tradition has it, sell out quickly— for the annual Salem's So Sweet Chocolate and Ice Sculpture Festival.
The festival is organized in partnership between Salem Main Streets, the Salem Chamber of Commerce, and Destination Salem.  This year's dates are Feb. 6-15 and will include ice sculptures around town, in-store promotions by retailers and restaurants in our downtown district, a Golden Ticket Raffle, and more. But of course the highlight is the kick off event, Friday Feb. 6th from 6:30 to 8:30 pm, Colonial Hall at Rockafellas. It features a luscious tasting event: wine and chocolate samplings from premier Salem restaurants, stores, and sweet shops.
We are talking about everything from chocolate mousse to donuts to chocolate spaghetti, with truffles of all sizes, plus a variety of wines and other alcoholic treats that go with just about every type of chocolate.
"On the one hand, it amazes me how passionate people are about this event – people have been asking about tickets since November!" says Kylie Sullivan, manager of Salem Main Streets.  "But on the other hand, it's not hard to see why.  We truly have an incredible food and restaurant scene here in Salem, and it shines through at an event like this."
Do something special for your your special Valentine this year!  Tickets are $25 per person and can be purchased over the phone at 978-744-0004, online here, or in person at the Salem Chamber of Commerce, 265 Essex Street, Suite 101.