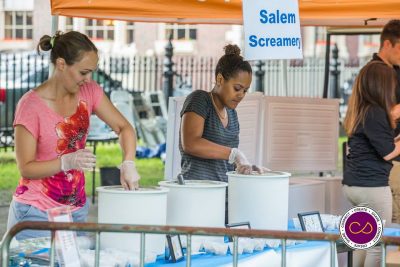 Short of going to a Museum of Ice Cream, the next best thing is going to the Salem Main Streets Ice Scream Bowl this Tuesday from 6-7:30pm where, for a small fee, you will sample a variety of ice cream from multiple local vendors. As in past years, the event will take place on the Salem Common.
This Heritage Days Festival favorite gives "kids of all ages" a chance to taste some classic flavors as well as some exciting new combinations from the area's premier ice cream shops.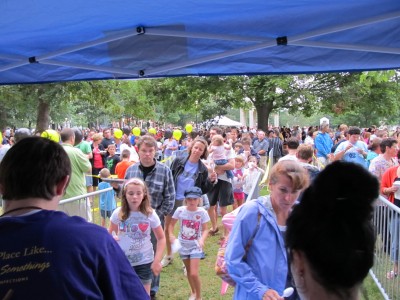 A few of the businesses serving samples at the event include Captain Dusty's, Cherry Farm Creamery, Maria's Sweet Somethings, and Melt Ice Cream.
Kylie Sullivan, SMS Executive Director says, "North Shore 104.9 will also be in attendance with fun games and takeaways. New this year, we will be featuring a 'community fair' of sorts, where a number of kid-focused community groups and organizations (such as Salem Youth Soccer, Girl Scouts, Mass in Motion, and the SPUR Backpack Drive) will be present."
The cost is $6 for adults and $4 for children. Tickets for the Ice Scream Bowl are purchased on site at the event. A spoon and napkins will be supplied with the purchase of a ticket.
Proceeds go to Salem Main Streets; we are a nonprofit organization with the goal of revitalizing downtown Salem as a vibrant year-round retail, dining, and cultural destination. Salem Main Streets organizes the Salem Farmers' Market, Salem Arts Festival, and many other events in downtown Salem.
The Ice Scream Bowl is coordinated in partnership between Salem Main Streets and the City of Salem as part of Salem Heritage Days, a 10 day event to celebrate the people of Salem.
For any other questions or comments regarding this event, please contact Kylie Sullivan at Salem Main Streets, (978) 744-0004 x15 or email at kylie@salemmainstreets.org.
Kylie adds, "Salem's Ice Scream Bowl is a fun event for both children and adults to cool down from the heat and enjoy tasty ice cream. Current weather forecast calls for sunny skies and a high of 82 degrees. Ice cream sure sounds like a good idea!"