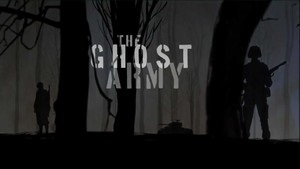 There is reality and there is perception in life, but in the summer of 1944, camouflaging which was which was the point of an absurd, yet deadly, yet creative ruse being played out during World War II. The details of which were in The Ghost Army, an award winning documentary by Rick Beyer that played to sold out houses at the 2013 Salem Film Fest — and is returning as the Salem Film Fest presents a special screening of The Ghost Army this Thursday at CinemaSalem at 8:15pm. Beyer will be available for a Q&A session.
During World War II, a handpicked group of American GI's undertook a bizarre mission: create a traveling road show of deception on the battlefields of Europe, with the German Army as their audience. The 23rd Headquarters Special Troops used inflatable rubber tanks, sound trucks, and dazzling performance art to bluff the enemy again and again, often right along the front lines.
Many of the men picked to carry out these dangerous deception missions were artists. Some went on to become famous, including fashion designer Bill Blass. In their spare time, they painted and sketched their way across Europe, creating a unique and moving visual record of their war. Their secret mission was kept hushed up for nearly 50 years after the war's end.
Beyer has been quoted as saying "The idea that American soldiers in World War II went into battle with inflatable tanks and sound effects records was so bizarre, so contrary to every image from every war movie I've ever seen, that it immediately attracted my attention."
The story will do the same for you.
For more details on the documentary, check out the coverage by PBS and view this excerpt.
For tickets to the showing at CinemaSalem please go to this website.
The Salem Film Fest will return March 3-10, 2016.