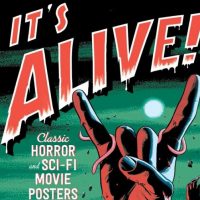 Now here is a scary good deal! Salem Horror Fest Opening Night Party at PEM/PM featuring Metal Macabaret will take place on the 3rd Friday of the month (that's this Friday, Sept. 22nd at 6 pm) instead of the usual 3rd Thursday for PEM/PM.
Hauntingly inspired by the current Peabody Essex Museum Exhibition It's Alive! Classic Horror and Sci-Fi Art from the Kirk Hammett Collection, PEM teamed up with Salem Horror Fest to make an event that will make you tingle all over, from head to toe and through your bones!
The Salem Horror Fest, if you have been locked away in a dungeon, underground somewhere, is a four-week festival of fear (9/21-10/15) here in the Halloween-capital of the world! Screenings, exhibits, parties, concerts, guests & more!
PEM/PM Activities
Creepily create your own horror poster, dance demonly to beats by DJ Zombi and live tunes by Scary Mary and the Audio Corsette. Carve out some time to check out works by locals featured in the Women in Horror expo and enjoy a feature performance by M Lamar.
And the highlight of the evening: you won't want to miss the 9 pm screening of Night of the Living Dead to kick off the Salem Horror Fest (separate ticket required).
This is THE ultimate big bash opening to the Halloween season!  But while costumes and masks will abound on the streets of Salem during our month-long Haunted Happenings celebration, the Peabody Essex Museum asks that for this event you refrain from any full-face makeup or masks in the museum for security reasons.
As with all PEM/PM events, it will also feature after-hours access to the museum galleries, interactive and art-focused experiences, an informal atmosphere including live music or DJ performances, tailored culinary offerings and a cash bar.
The goal is to present to the community multiple opportunities to interact with artists and performers, tinkerers and thinkers.
Members, as well as college students & Salem residents (with ID) will be admitted free of charge. For nonmembers, there is a $12 fee.
The PEM is located at East India Square, 161 Essex Street, Salem, MA. For more info, call 978-745-9500, or toll free 866-745-1876.