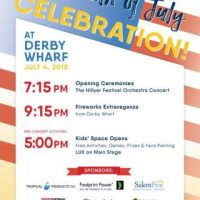 One of the best Independence Day Fireworks festivities on the North Shore will be found at the Salem Maritime National Historic Site on Derby Wharf this Wednesday, July 4th. It is America's 242nd birthday. And you are an invited guest.
"There's no better place to celebrate Independence Day than in historic Salem," explains Mayor Kimberly Driscoll. "Start off bright and early at Salem Common for the annual reading of the Declaration of Independence, spend the day visiting the City's numerous historic sites and attractions, dine at one of dozens of remarkable restaurants, and end your day at historic Derby Wharf for all of the festivities."
A Bit of Trivia
Along the way, during the day, Americans are expected to consume 150 million hot dogs at bar-b-ques and other backyard celebrations.
Historically, did you know that it wasn't until 1870 that the U.S. Congress made July 4th a federal holiday? Prior to that, Americans held individual celebrations. In fact, according to History.com "By the last decade of the 18th century, the two major political parties – the Federalist Party and Democratic-Republicans – that had arisen began holding separate Fourth of July celebrations in many large cities."
Salem Activities
Join Mayor Driscoll on Salem Common at 9:00 a.m. for the reading of the Declaration of Independence.  Lloyd Woodcock will read the document. Bob Kendall will provide piano music, Salem High School's "Witch Pitch?" has been invited to sing the National Anthem, and audience singing will be led by Maureen Dalton.  Coffee will be provided by the Salem Common Neighborhood Association.
Free children's activities begin at 5:00 p.m. with the opening of the Kids' Space, where little ones can play games, win prizes and get their faces painted.  Also, stop by the Honest Tea tent for samples of their tea, sport, and kids' juice line.
Live entertainment begins at 5:00 p.m. This year LUX quartet will be performing on main stage.  LUX is a funky/jazzy/quirky/entertaining/engaging ensemble from the North Shore and has played venues throughout New England.
Food tents are on site selling hot dogs, French fries, fried dough, kettle corn, and other favorite foods you might find at a fair.
Opening Ceremonies begin at 7:15 p.m. when Mayor Driscoll and other local dignitaries will lead a parade down the wharf accompanied by the Salem Veterans Honor Guard and Salem Boy Scout troops. Members of the Salem High School's a capella group "Witch Pitch?" will sing The National Anthem.
Immediately following opening ceremonies, Maestro Dirk Hillyer and the Hillyer Festival Orchestra (HFO) will take center stage to perform a program packed with Broadway show tunes and patriotic music featuring soprano Jacyn Tremblay.
For intermission entertainment, talented musicians from Salem's Collins Middle School band will play several selections from their repertoire.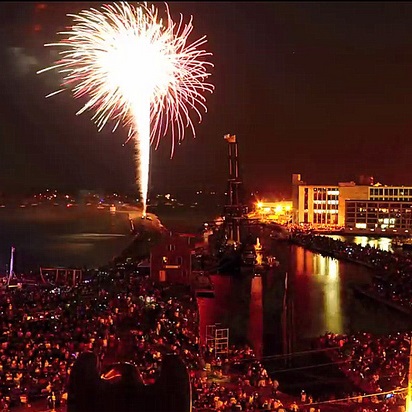 At 9:15 p.m., Salem ends its Independence Day celebration with a fireworks extravaganza, accompanied live by the Hillyer Festival Orchestra playing the 1812 Overture and other patriotic tunes throughout the entire fireworks display.
Please note the following information for those planning to attend Wednesday's July 4th celebrations in Salem
Be safe

. To ensure a safe and fun celebration, the Salem Police Department will have enhanced security in place on July 4th. Guests are asked to carry any items in clear plastic bags and be prepared for possible bag checks by uniformed officers.
Say something

. If you see something, say something to uniformed police at the celebration. In addition to officers who will be moving throughout the area all evening, you can also always find officers at the public safety tent, which will be clearly identifiable on site.  Concerns can also be called into the Salem Police at (978) 744-1212.
Derby Wharf access

. Police will be monitoring access points into the Derby Wharf area throughout the afternoon and evening. Please plan for additional time to arrive at the wharf for the festivities.
Road closures

. Derby Street from Herbert Street to Daniels Street, and Orange Street and Curtis Street at Essex Street, will all be closed to traffic from 5:00 pm. until 11:00 p.m.
Avoid driving to Derby Wharf

. Seek parking downtown in a lot (www.parkinginsalem.com) or Museum Place Garage on New Liberty Street and the South Harbor Garage on Congress Street are available for parking at $5 for the day, with the proceeds being donated directly towards the July 4th celebration.  There is overflow parking at Shetland Properties on Congress Street, or take the commuter rail or Salem Ferry (www.salemferry.com) to avoid anticipated traffic congestion. The last MBTA trains depart Salem station at 10:40 p.m. (southbound) and 10:51 p.m. (northbound/Newburyport Line) and 12:01 a.m. (northbound/Rockport Line)
Handicapped parking

. There is limited handicap parking at Derby Wharf and in the Immaculate Conception parking lot on Hawthorne Boulevard, which is first-come first-serve, and there is a mobility impaired/wheelchair seating section reserved at the beginning of Derby Wharf, so attendees do not have to traverse the park's terrain.
Don't bring fireworks

. Salem has adopted the maximum fines allowable for both the sale ($1,000 fine) and use ($200 fine) of fireworks. In addition, a dedicated police unit will be tasked with enforcing the laws prohibiting the private use of fireworks. Please help ensure a safe July 4th for all and leave the fireworks to the professionals.
Harbor access

. Recreational boaters and other craft will be restricted from the area around Derby Wharf and the channel in Salem Harbor and the South River for much of the evening. Mariners can call the Harbormaster's Office at 978-741-0098 or on VHF 16 for emergencies after hours or for more information.
One final note, we would like to add. A community undertaking such as this is indeed a community effort.
"I'd like to express a special thank you to our Skyrocket Sponsors: Footprint Power – Salem Harbor Station, Salem Five and Tropical Products, along with our Star-Spangled Sponsors: Aggregate Industries, Tache Real Estate, Market Basket, Eastern Bank, and KV Associates, and Thermal Circuits," commented Mayor Driscoll. "This event does not happen without their and many others support."